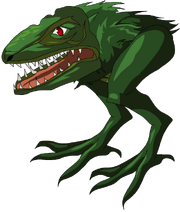 Zards are ancient super-adaptable creature species that can be found in the wilds. They come in all species, all elements, etc. They are also based on various dinosaurs. Zards are known to be a combination of both frog and lizard.
There were some species of Zards that were created by the ZardMaster.
According to Zardhunter there are twenty-three known species of zards, seventeen of which are exceedingly rare.
Zards by Element and Alphabetical order
Edit
Other/Multiple
Edit
Ad blocker interference detected!
Wikia is a free-to-use site that makes money from advertising. We have a modified experience for viewers using ad blockers

Wikia is not accessible if you've made further modifications. Remove the custom ad blocker rule(s) and the page will load as expected.