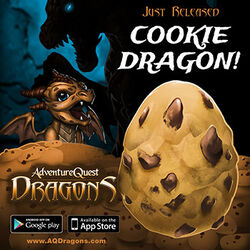 A Cookie Dragon is a species of Dragon. To hatch it these things are required:
Hitting the Egg
Ceramic Bowl
Butter
Brown Sugar
White Flour
Stirring Spoon
Fresh Eggs
Chocolate Chips
Chopped Nuts
Vanilla Extract
Oven
Cookie Dragons eat cookies.
Ad blocker interference detected!
Wikia is a free-to-use site that makes money from advertising. We have a modified experience for viewers using ad blockers

Wikia is not accessible if you've made further modifications. Remove the custom ad blocker rule(s) and the page will load as expected.